The province is bone-dry.
Even scientists who study weather can't predict an end to the record drought now parching forests, drying streams, killing spawning salmon, and causing "extreme" risk of fires across large areas of B.C.
"Every time we think a weather system is coming through to bring us rain," said federal government meteorologist Alyssa Charbonneau, we get sunshine and record heat instead.
Parts of southern and coastal B.C. are now at the highest drought measurement set by the province, known as Level 5. The Sunshine Coast is running out of water, and has considered emergency measures including restricting tourism and new housing developments. Some reservoirs that are used to provide power are at record lows, reported BC Hydro, warning, "Unpredictable weather patterns related to climate change are expected to continue."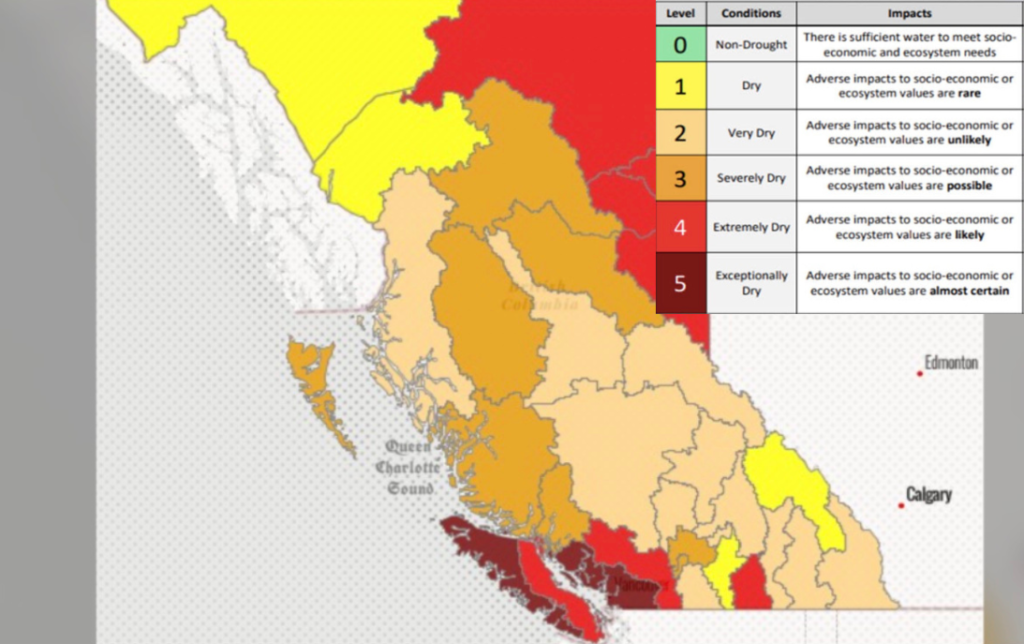 There's no reprieve expected in the immediate future, Charbonneau told West Coast Now, saying, "It's a big departure from what we normally see at this time of year."
These conditions are unprecedented, but they've long been predicted by people who study the warming of our climate. "Hotter, drier summers, drought, and fires are consistent with what climate scientists have been saying we should expect," said Kai Chan, a professor at the Institute for Resources, Environment and Sustainability at the University of British Columbia.
The extreme conditions are affecting many parts of the province.
"Food production is suffering, salmon are suffering, there are more forest fires with all the smoke that comes with that. There are losses of other kinds of wildlife, and more boil water advisories," said Chan.
So what can we do about it? Climate change is a vast issue, but six months ago Chan helped found CoSphere, which provides people with "knowledge and tools" to work together to change laws and institutions.
Personal and local actions like saving energy are good, said Chan, "but there's not enough focus on how people can spur transformative change."
The organization's name stands for "Community of Small-Planet Heroes," and with drought still raging in B.C., we definitely need more of those heroes.
Photographs taken at Edwards Lake, October 10, 2022, showing a 3.5m reduction in water levels. Credit: ©Scott Bleackley/ @SCZoomers/ Zoomers of the Sunshine Coast BC