The coastal forestry industry just got some rare good news.
The Crofton mill, whose paper operations were recently curtailed, will now be receiving a $50 million upgrade that will put 100 employees back to work, according to an announcement late last week from the mill's owner, Paper Excellence.
That upgrade includes $14.3 million from the federal government and $4.5 million from the B.C. government.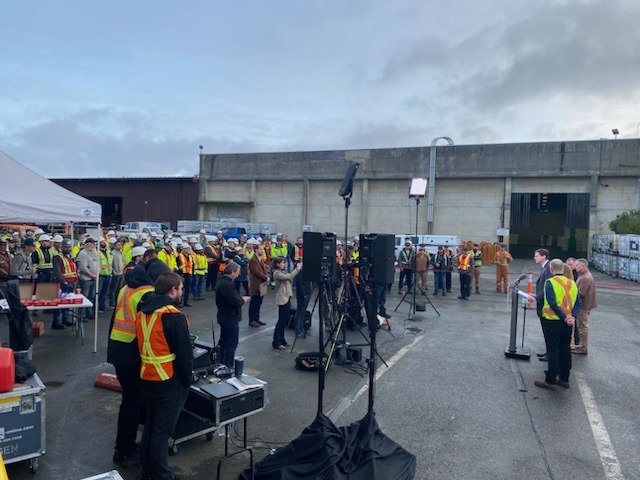 The mill, which previously made paper for export to Asia, will retool to make products that "replace banned plastics with renewable paper while significantly reducing carbon emissions," Stew Gibson, Chief Operating Officer for Paper Excellence Canada, said in the statement.
Federal natural resources minister Jonathan Wilkinson said that the new investment will "reduce emissions, eliminate harmful waste, build up strong local economies, and support good, sustainable, jobs."
The move is a turn-around for the giant company, owned by an international conglomerate with links to Indonesia's Widjaja family, with its Canadian operations headquartered in B.C.  Last fall, during a union dispute, the company said it would shutter both its pulp operation and paper lines, which in previous years employed hundreds of workers in the small town.
However, the newly announced public spending will help save "more than 100 good-paying, family-supporting jobs in our community," Doug Routley, MLA for Nanaimo-North Cowichan, said on social media.
The government contributions "are absolutely essential to restarting the paper operations and securing these rural jobs at the site," said Gibson.
The union representing most of the new jobs welcomed the news. "Forestry is a cornerstone of British Columbia's economy, but nobody should take it for granted. Investments like this will pay dividends for generations to come," Unifor president Lana Payne told a press conference in Crofton.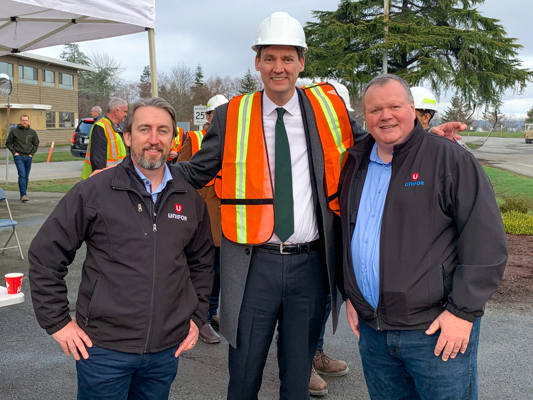 The union said that from 2001 to 2017, 45,000 jobs were lost throughout the B.C. forest industry, and noted that earlier this month the Canfor mill in Prince George announced it would permanently close a pulp line.
Crofton's mill, which opened about 65 years ago, had its share of troubles long before Paper Excellence bought it in 2019.
The mill relies on water from the Cowichan River, which is supplied during summer by a weir on Cowichan Lake that is operated by the Crofton mill. Now, with drought threatening the water supply, including for salmon, the Cowichan Watershed Board is calling for a new weir to be built.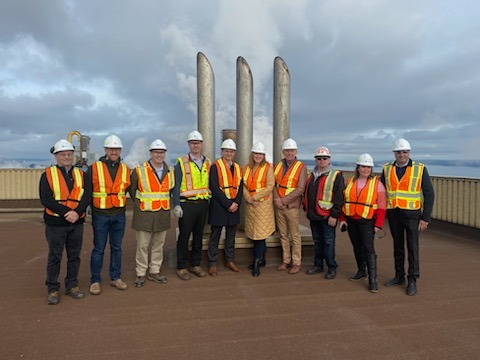 Pollution from the mill was once so bad that Canadian rock stars Randy Bachman and Neil Young joined a star-studded campaign in 2004 to close it down.
The federal government has ranked B.C.'s pulp and paper mills as among the worst culprits in air and industrial water pollution, reported Larry Pyn in a major feature on the Crofton mill, for Hakai Magazine, last fall.
But the mill claims that its environmental performance will be improving. The new investment "reduces natural gas consumption through more efficient use of waste bark fuel in the mill's boiler."
The mill's C2 paper machine is expected to start re-opening by the end of January, said the company.
The upgrade will improve the Crofton mill's competitiveness, said the company statement, "while reducing 26,000 tonnes of carbon dioxide emissions annually equal to about 5,600 cars."