Written by Rochelle Baker, Local Journalism Initiative, Canada's National Observer
Quadra Islanders braved lashing wind and rain to bid farewell to the queen that for decades dictated many aspects of their lives and reigned over their West Coast community.
After operating 32 years as the sole vessel serving the small ferry-dependent island — and a full 58 years with the BC Ferries fleet — the Powell River Queen was retired from service on Jan. 17.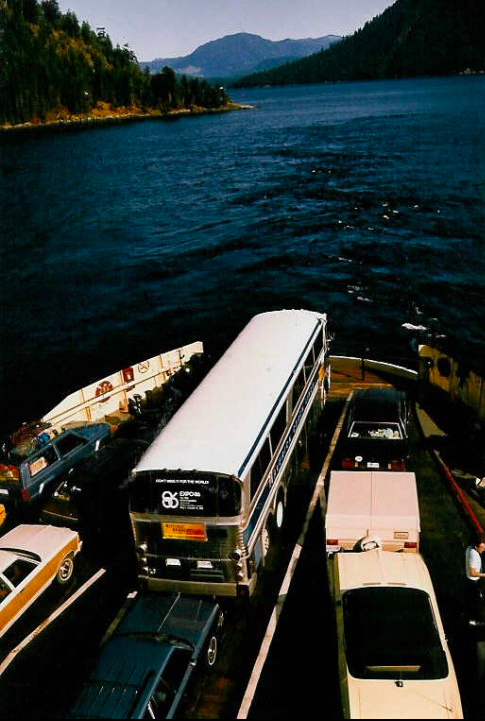 Residents along with current and retired crew members descended on the Quathiaski Cove terminal for a Tim Hortons coffee and a celebratory slice of cake to reminisce over their love-hate relationship with the boat.
"She was a good, ole boat. Even with one engine down, she always got us home."

Quadra Island resident, Barry Schweitzer
Typically, a crossing with the PR Queen was an easy 15 minutes. But wild winter weather paired with heavy tides, mechanical difficulties or summer overloads could easily turn into a half-day journey, much of it spent languishing in terminal parking lots.
Still, the goodbye turnout of nearly 100 people spoke to residents' and employees' affection for the ferry. Awash in sentiment, many opted to make one last trip across Discovery Passage to Campbell River on neighbouring Vancouver Island on the boat's last day of operation.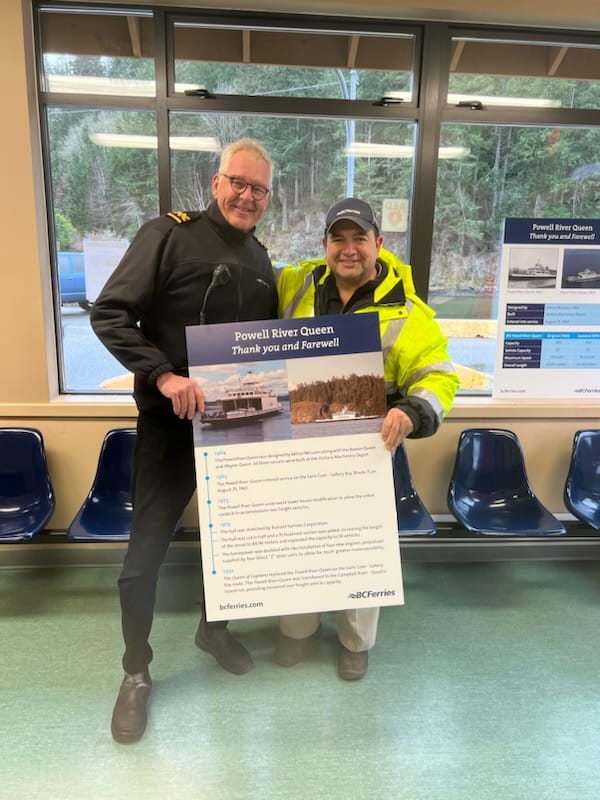 "There are a lot of years and a lot of memories wrapped up in that boat," said retired Capt. John Arnold, who piloted the Powell River Queen for 20 years.
The hardy ferry was a dependable lifeline for islanders leaving Quadra for work, shopping trips and medical care. It shipped ambulances to hospital, hydro crews responding to blackouts, essential cargo and fuel trucks, and island kids back and forth from school every day, Arnold said, recalling time spent with his own daughter during her commute to Carihi High School.
The PR Queen was a pleasure to operate despite the occasional temper tantrum, Arnold said.
"She's a real hotrod and so forgiving. You can turn her around on a dime and she'll give you nine cents change."

Retired Powell River Queen Captain, John Arnold
She had the advantage of four propellers, or "legs", that hang deep into the water from the hull, two at the bow and two at the stern, that rotate 360 degrees, giving the ship great propulsion and manoeuvrability. It also meant if one engine broke down, the boat remained operable.
"She's a real hotrod and so forgiving," Arnold said. "You can turn her around on a dime and she'll give you nine cents change."
Those qualities meant the Queen was well-suited for the Discovery Passage crossing, one of the most difficult on the coast despite its short span, Arnold said.
The old ferry weathered a high number of daily sailings, rapid tidal currents, strong southeast winter winds and chop, all the while steering clear of heavy commercial and recreational boat traffic in a narrow passage complicated by the frequent and unpredictable presence of whales.
Built in Victoria in 1965, and the oldest vessel in the fleet, the PR Queen's design valued function over form; her only amenities being washrooms and vending machines.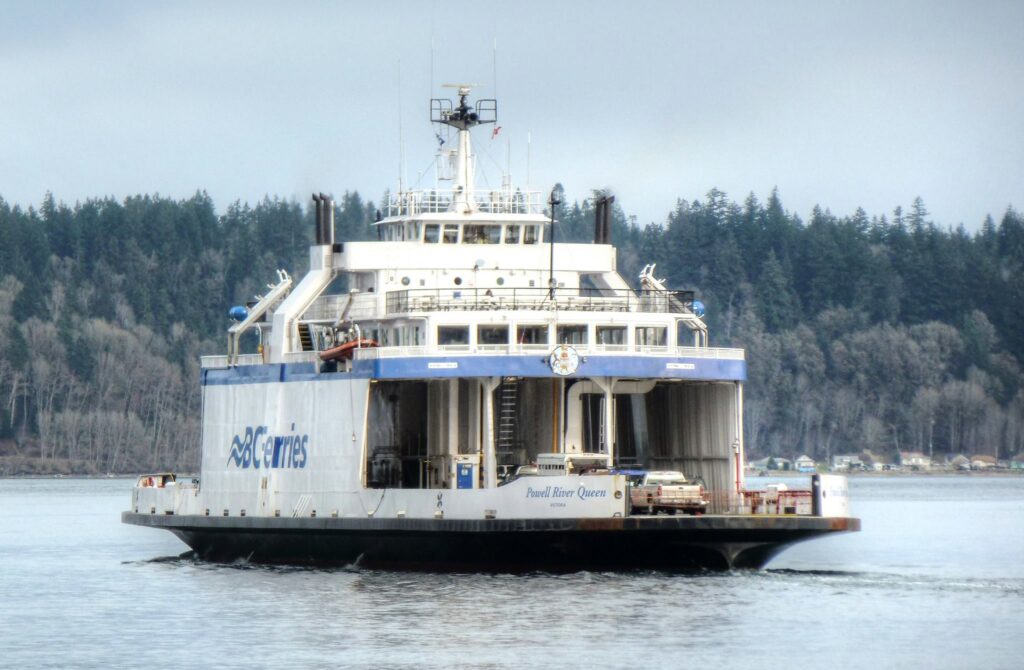 "You can hardly walk between the cars on deck because there's so little room," Arnold said.
Foot passengers unable to mount the stairs to the utilitarian lounge sheltered from the elements in a smallish, drafty metal box lodged in the corner of the exposed car deck. It was equipped with two benches, perpetually steamy windows, and held a total of six people sitting shoulder to shoulder.
Those able to make the climb to the lounge faced a sign on the stairwell door that pleaded with folks not to wear cork boots — the spiked footwear favoured by forestry workers — to prevent tearing up the ship's worn blue-green carpets.
The PR Queen is being replaced by two sleek, spanking new Island Class vessels from a series of six diesel-electric hybrid ships designed to lower emissions and reduce underwater noise.
The hybrid vessels will become fully electrified when federal funding and charging infrastructure are available, according to BC Ferries.
Both the Island Nagalis and Island K'ulut'a will run the route between Quadra and Campbell River during peak hours. Though individually the new boats carry fewer cars than the Queen, the increased number of sailings will boost capacity on the route by 40 per cent, reducing wait times and traffic congestion, BC Ferries said.
In the run-up to her retirement, Quadra Island's social media sites were flooded with photos of the PR Queen along with favourite memories of new babies coming home, teens sneakily sipping beers on board, and war stories about rough sailings and the occasional rescue.
Some folks even penned songs or created artwork in honour of the departing ferry.
The PR Queen's final fate is still up in the air. BC Ferries is selling her off and as of Thursday, the online auction site listed the highest bid at a mere $82,000.
As she sounded her horns for her last sailing, Quadra resident Barry Schweitzer said the PR Queen had been a constant presence during his 30 years on the island.
"I'll miss her immensely. I've been on thousands of trips," Schweitzer said.
"She was a good, ole boat. Even with one engine down, she always got us home."
This story by Rochelle Baker was originally published in Canada's National Observer. It is republished under Creative Commons Licence according to the government-funded Local Journalism Initiative.