"Gaksdanaa."
In Sm'algya̱x, the language of the Ts'msyen peoples, it translates as "behold!"
"Gaksdanaa is always used in our adaawx, our old stories and truth-telling," says Prince Rupert painter and carver Kelli Clifton, whose fusing of language and design has moved her into the front ranks of B.C. artists.
"It means that something dramatic is about to happen," she explains. "It's become a total favourite among language learners and we get so excited when we hear or use it."
Clifton has emblazoned the word Gaksdanaa in gold across a shield-like painting of Northwest coast art.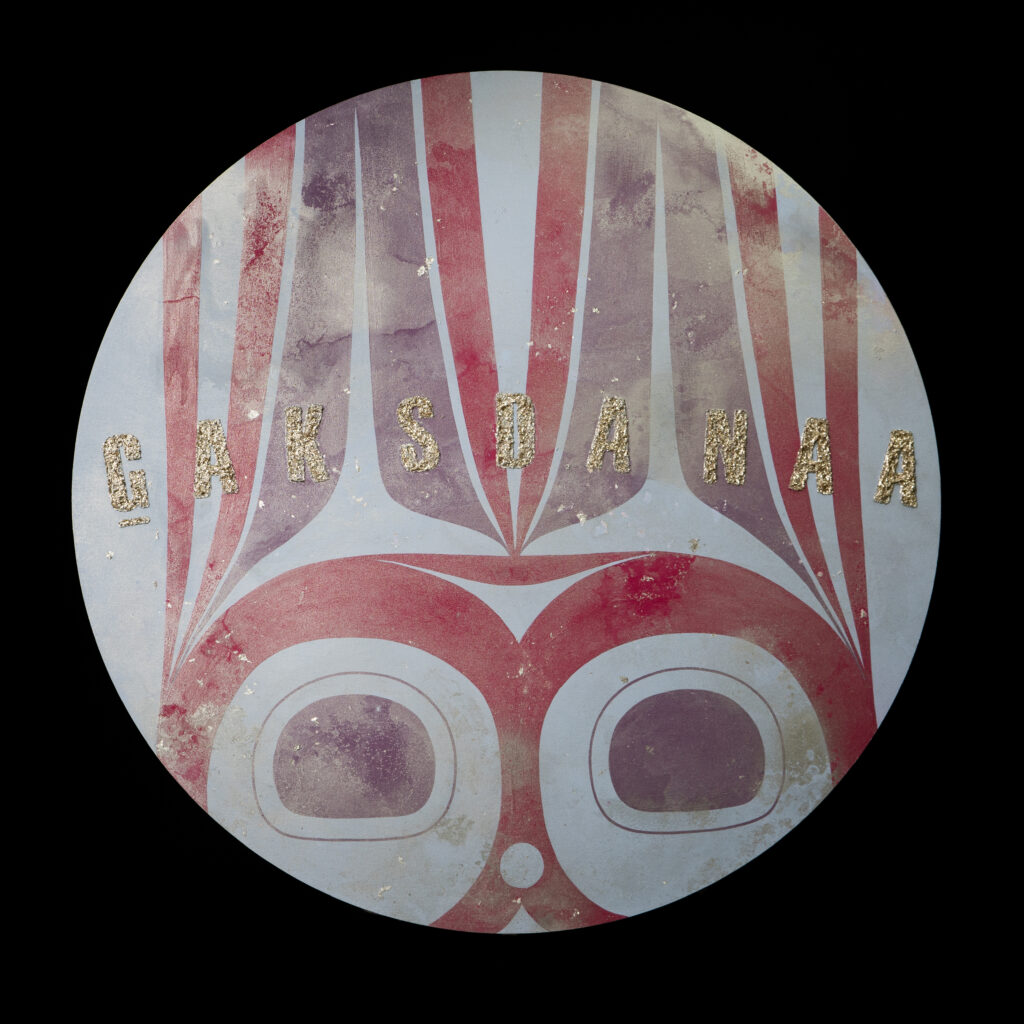 Last month, the Canada Council Art Bank acquired Clifton's painting as part of its 50th Anniversary competition. She was one of only 72 artists–more than 1,700 qualified submissions were received–to be selected. It means even higher visibility for her art, because the Art Bank's holdings are rented to institutional and corporate clients across Canada.
The honour was just the latest for a lifelong artist and teacher whose roots go back to a big fishing family in Hartley Bay. "That's what inspires a lot of my work: fishing, our language, it all ties in," Clifton says.
Convinced she wanted to be an artist from a young age, Clifton left Prince Rupert at 17 to study fine arts at the University of Victoria.
Suffering from culture shock, she turned to her roots: "I thought, wow, I come from such a beautiful culture. I do want to show it to the world, but I want to do it my way."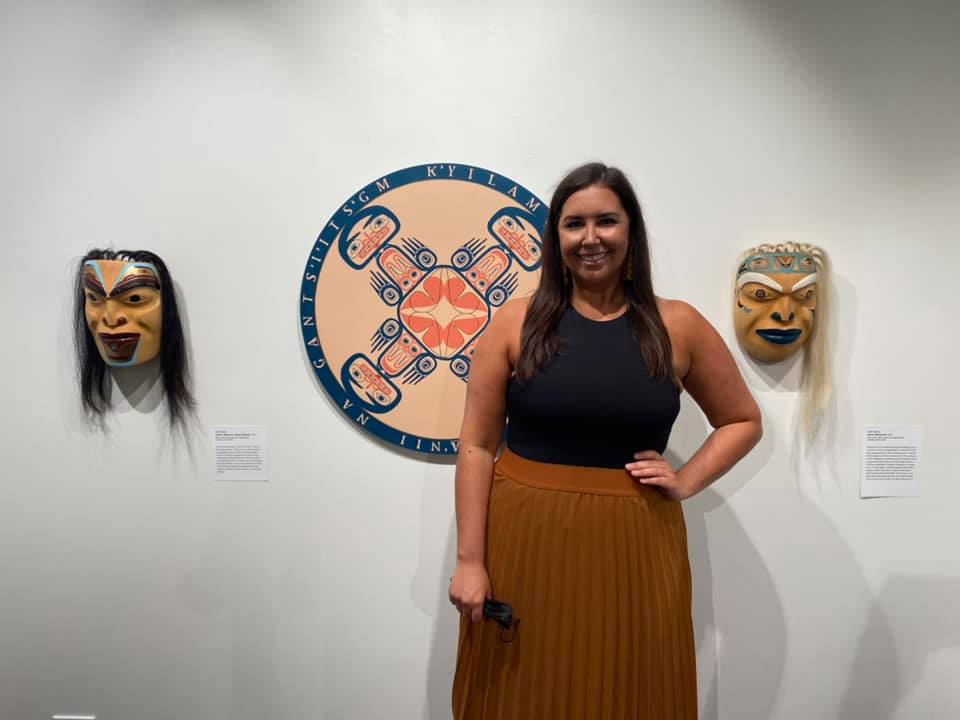 The familiar red and black form lines of Northwest Indigenous art didn't resonate with Clifton, but she realized, "I'm allowed to create my own version of our artwork and express my thoughts with aspects of design, using colours that I like, using text. And when I started learning my language I wanted to share our language in art."
Gaksdanaa, or "Behold", reflects all these decisions. The colours are more purple, pink, blue, and silver. The text, inspired by the work of Ken Lum (who designed the iconic East Van Cross in Vancouver), marches across the work in golden sparkle.
Clifton sees her decision to teach and learn Sm'algyax as the second stage in her growth as an artist.
"I juggle three worlds. I have my art, I teach Sm'algyax at the high school and I also am a learner of our language. I wear three different hats and try to produce art as often as I can. I feel the pieces I produce are a lot stronger because of my teaching and my learning," she says.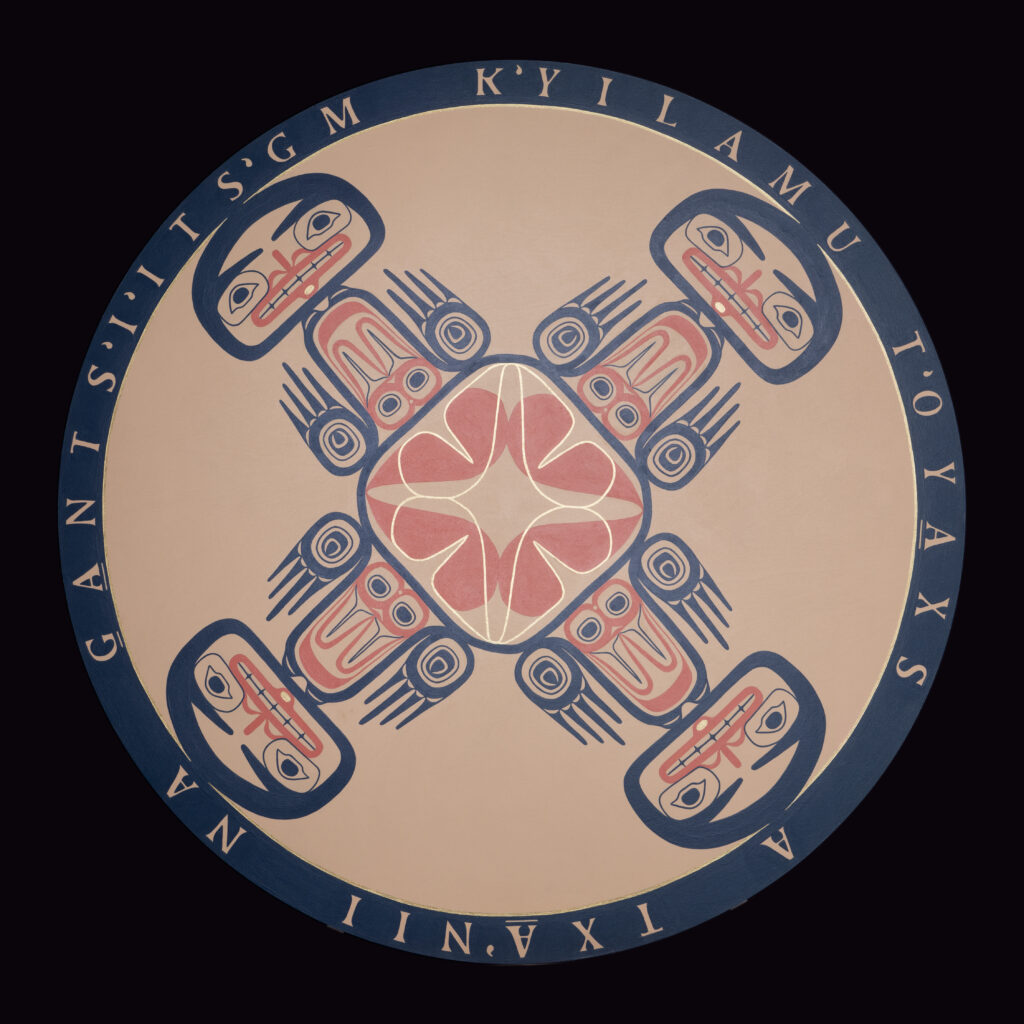 "I use my artwork as an opportunity to highlight our language because I feel it's equally beautiful and important and would like to share it with others."
After obtaining her university degree, Clifton enrolled in Terrace's Freda Diesing School of Northwest Art for two years of formal study. "That's where I learned to carve wood and finally truly started to understand Northwest Coast form line and design."
More than half her fellow-students were women, not surprising in a school named after an eminent Haida woman artist who mentored some of B.C.'s most famous carvers.
Clifton's work has appeared in a City Opera Vancouver production focussed on the Highway of Tears and a group show at Vancouver's Bill Reid Gallery, but she's not resting on her laurels. In addition to being a new mother, she's looking towards a potential spring art show and wants to study bentwood box design.
Clifton's story, it's clear, is far from over. "I know I have so far to go still in terms of my design," she says.
Geoff Meggs travels the coast whenever he can and is the author of an award-winning history of the BC salmon fishery.