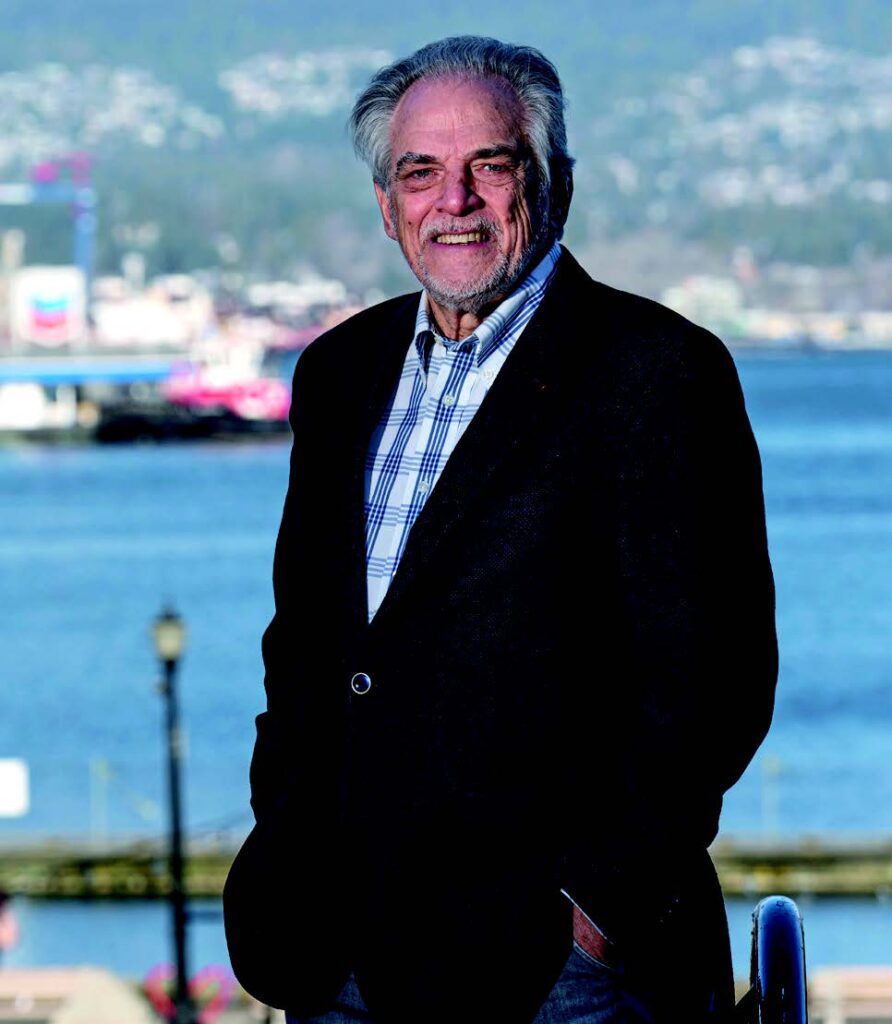 When Rob Allan thinks about the future of coastal shipping on the B.C. coast, one word comes to his mind: electricity.
He sees the current network of fuel docks replaced by charging stations that dispense power derived from tidal currents. And he thinks that all this renewable electricity will become the dominant coastal energy source, driving the tugs, yachts, fish boats, and work boats of a low-carbon economy.
"On the coastal side, there is much more opportunity for electric or hybrid vessels."

Rob Allan
It might sound far-fetched, but Allan's dreams have a way of coming true.
A naval architect with deep B.C. roots, his firm designed the all-electric ship-handling tugs just launched by the Haisla Nation for use with liquefied natural gas tankers at the new terminal at Kitimat.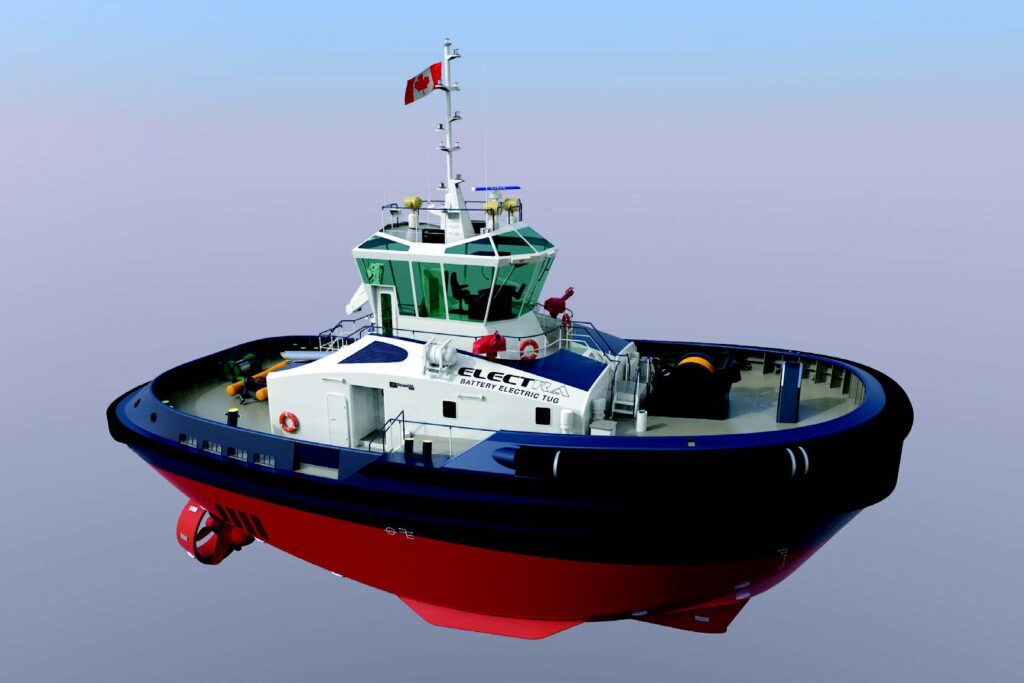 These first-of-a-kind tugs are part of a green transition phase that he thinks includes high-seas vessels moving from heavy fuel oil to lower-emission liquefied natural gas.
"We can't expect to just throw out the deep sea fleet and replace it with zero-emission ships," Allan told West Coast Now. "But on the coastal side, there is much more opportunity for electric or hybrid vessels. The problem is the endurance needed for longer trips and paying for the infrastructure."
Allan's innovations in towboat propulsion and hull form transformed his third-generation B.C. family firm into a global business with as many as 1,500 tugs built to his designs working on every continent.
These tugs are in addition to the ferries, research boats, gillnetters, trollers, mission boats, log barges, fire boats, police boats, water taxis, and yachts designed by the family business Robert Allan Ltd., helmed over the course of 95 years by Rob, his father, and his grandfather before him. (All three were named Robert Allan, but called Robert, Bob and Rob to keep them straight.)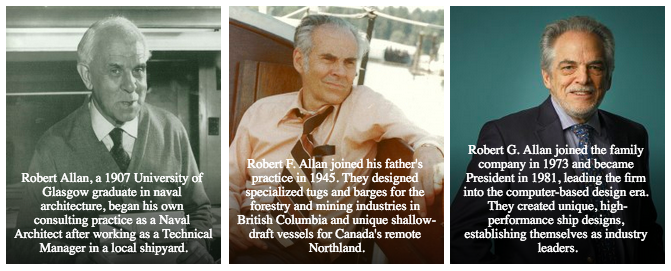 Now retired, Rob Allan tells the whole incredible story in a new book called Workboats for the World: the Robert Allan Story, just released by Pender Harbour's Harbour Publishing.
The list of distinctive vessels built to Robert Allan Ltd.'s designs reads like an encyclopedia of B.C. maritime history. It started with Rob Allan's grandfather, Robert Allan, designing the CP Steamship's 331-foot "pocket liner" S.S. Princess Louise. A passenger and freight ship built in North Vancouver in 1920, the Princess Louise served on the Alaska run until 1962.
With that success behind him, Rob's grandfather founded his own firm in 1928, Robert Allan Ltd., and weathered the Great Depression with a series of fisheries patrol vessels and then several luxurious yachts, including the famous Meander, stoutly built in 1934 with yellow cedar planks, oak frames, and a teak deck.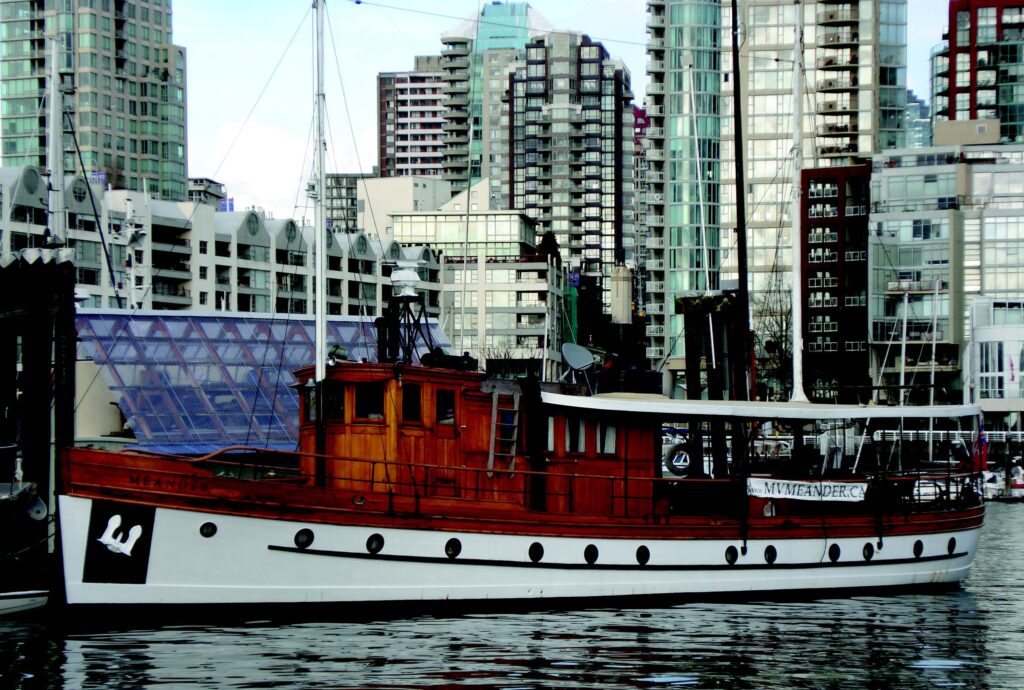 "We're currently responsible for designing one-third of the world's tugboat market."

Rob Allan
After a stint in the Fishermen's Reserve during the Second World War, Meander did years of service along the coast as a United Church mission boat and even a brief appearance in 1977 as Greenpeace IX in a flotilla opposing a proposed oil port in Kitimat. Fully restored, the boat ties up today in False Creek.
Right on the heels of Meander was the more notorious Black Hawk, a 34-foot "express hydroplane" powered by a Liberty aircraft engine salvaged from a rum runner. Black Hawk ferried loggers to remote camps at speeds of 43 kilometres per hour, with bursts to 72 kilometres per hour, trailing a long rooster tail of spray in its wake.
In the 1940s and 1950s, Robert and his son Bob Allan (Rob Allan's dad) turned their attention to the growing fishing fleet, producing plans for wooden seiners like Nanceda, classic trollers like Saturnina, and the firm's first steel fishboat, the 76-foot seiner Bering Sea launched in 1958.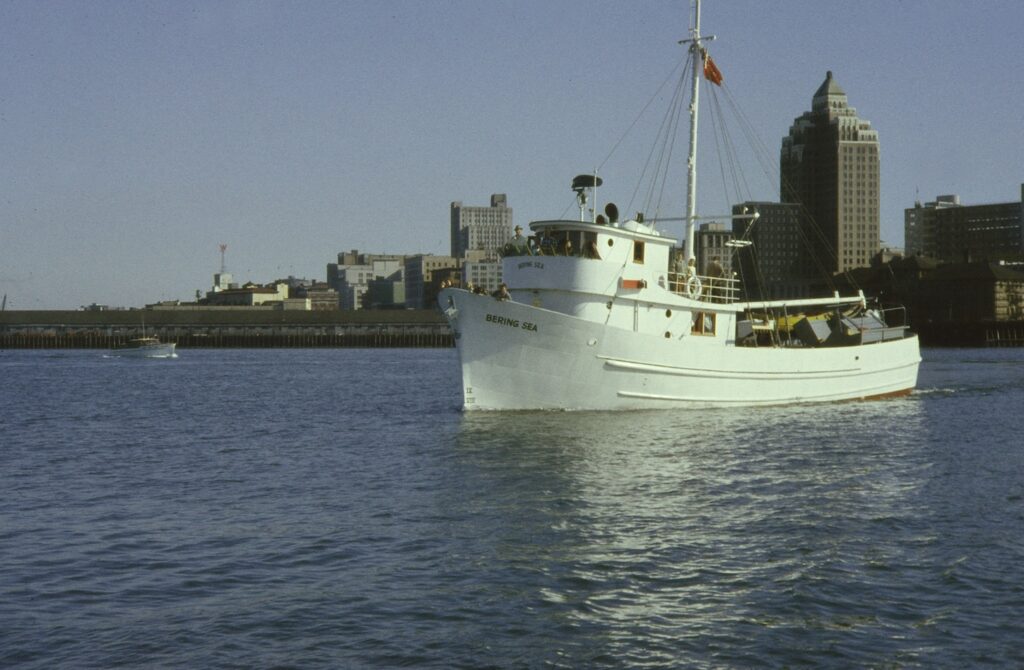 Countless other designs followed for log barges, tugs, oil rig service vessels, and ferries, but the firm's fortunes were transformed by the disastrous Exxon Valdez oil spill in Alaska in 1989. Tighter safety regulations required a new generation of escort tugs with unprecedented maneuverability, speed and power.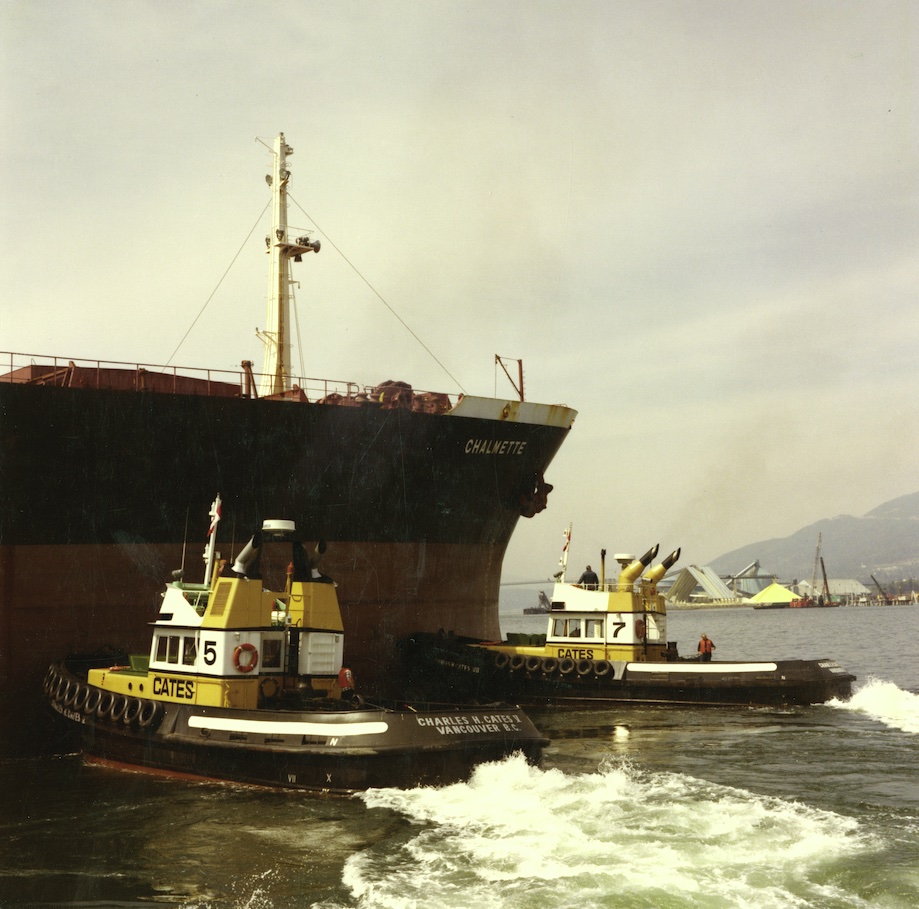 Robert Allan Ltd. had a head start on competitors thanks to a strong partnership with C.H. Cates and Sons, a North Vancouver towing company that did all the ship-handling in the Port of Vancouver.
"The people who ran Cates were really imaginative people who redefined what a modern harbour tug might look like," said Rob Allan. "The work we did attracted a lot of international attention. Their boats were very small, compact but high-powered with a Z-drive propulsion system, relatively new at the time but now standard."
The Z-drive system allowed the prop, suspended below the vessel, to replace the rudder with a unit that rotated a full 360 degrees, giving the tug tremendous maneuverability.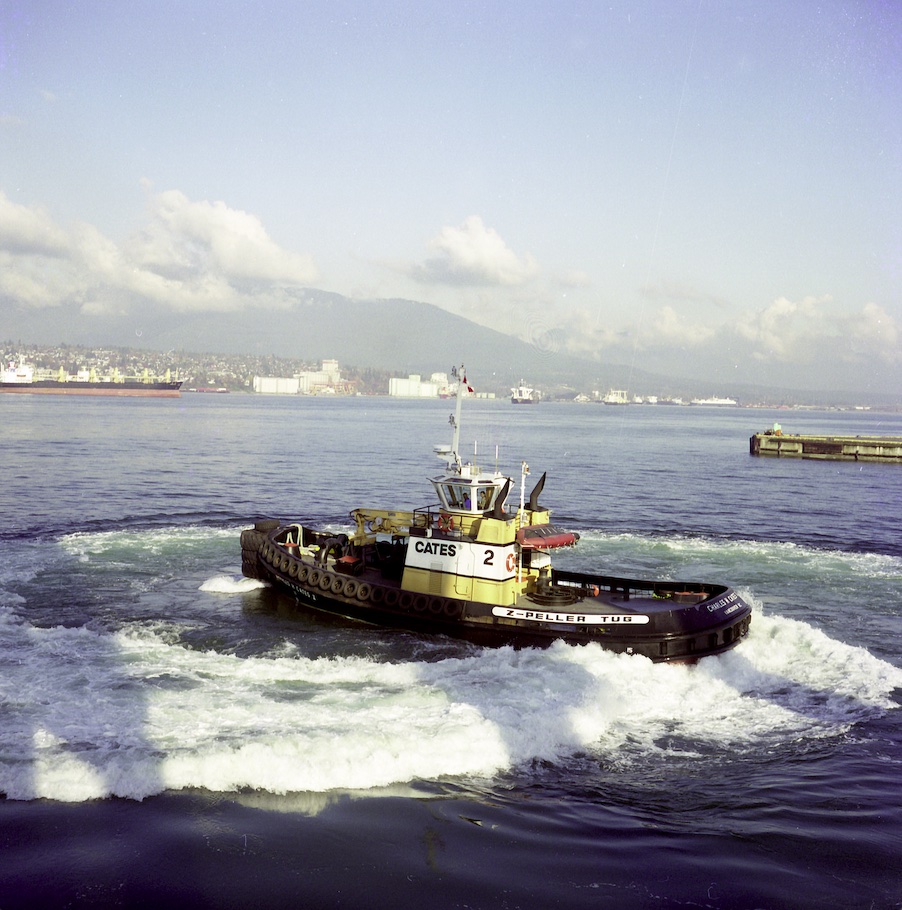 "We have the best cruising in the world. That's where we should focus and change the Coast to an electric-friendly cruising ground."

Rob Allan
Allan then did research on hull form physics in a model basin at the University of British Columbia that resulted in what he calls an "aha moment." By combining new hull shapes with the Z-drive, Allan produced a design that resulted in a faster, more capable escort tug that soon became the global standard. He never looked back.
"We're currently responsible for designing one-third of the world's tugboat market," Allan says, "and when we consider the large escort tugs it rises to 75 percent."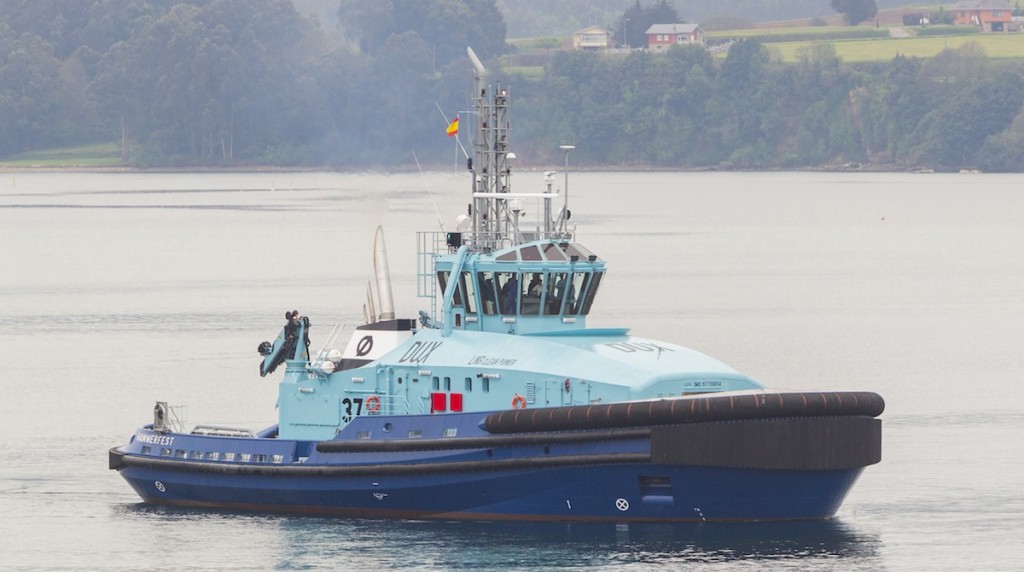 None of these vessels are built in B.C., Allan says, because labour costs in the province are far above those elsewhere in the world. He can name six B.C. shipyards that used to build his firm's designs that no longer exist.
Despite that hard reality, Allan sees reason for some optimism about B.C.'s small commercial yards. He points to Campbell River's Ocean Pacific Maritime, Victoria's Point Hope Maritime, and the growing Port Alberni Shipyard as capable and progressive firms.
In 2008, with retirement on the horizon, Rob Allan made the decision to sell the firm to his employees. "They're going strong," he says, delivering cutting-edge designs from their Vancouver office to clients in every region of the globe.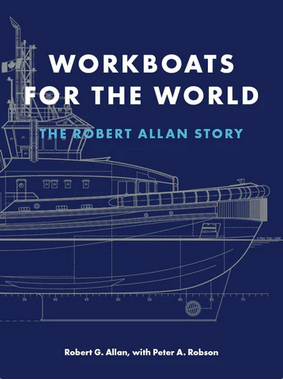 Workboats for the World is not just the story of a remarkable B.C. family business with roots on the Coast; it is a treasure house of memories, yarns, and photographs of a coastal economy fading from view. There will always be a role on B.C.'s coast for versatile workboats, Allan believes, but tourism and recreation are also becoming more dominant in the coastal economy.
Anyone flying the Coast knows that "for every tug or barge, you see 1,000 pleasure craft," Allan notes. "We have the best cruising in the world. That's where we should focus and change the Coast to an electric-friendly cruising ground."